The Digital Mailroom Explainer: How It Works, Benefits & Solutions
If you are looking into ways to digitise and automate all, or part of, your inbound customer communications with a digital mailroom solution, we've written this explainer to give you all the information you need to decide whether implementing a digital mailroom is for you.
Read on to understand what a digital mailroom is, how it works and what the benefits could be for your business – and your customers – depending on the level of automation you are looking for.
Contents
What is a digital mailroom?
Put simply, a digital mailroom solution replaces much of the traditional mailroom experience with digital, automated processes for receiving, distributing and archiving inbound physical mail and email.

The whole concept of the digital mailroom is to allow users to see their mail items remotely via a portal without being on site. As hybrid working and remote working continue to become normalised, it's important for organisations to have this kind of capability to receive and process mail.

The traditional process for a workplace mailroom has involved a facilities team or mail handlers' receiving post and sorting it, to then be hand-delivered to each department.

Since the pandemic, with most office employees working remotely, businesses have already digitised at least some part of the inbound communications process by having a mailroom operator onsite to open, sort, scan and email documents to individual or group mailboxes.

But this is far from the level of speed, efficiency and security a digital mailroom offers.

You might be thinking, surely inbound print mail is becoming less and less of a thing. Why is this important?

The reason a Digital Mailroom can future-proof your business is because it works for all inbound communications, including email attachments and photographs. Incorporating your "info@" inbox as well as your P.O. Box.
Finally, it will also reduce costs. Try our calculator to see how much you could potentially save with a Digital Mailroom solution.
Who is Digital Mailroom for?
Digital mailroom is for any organisation that is:
Spending too much money maintaining scanning equipment and wants to reduce operational costs
Currently processing and storing large volumes of paper documents on site
Struggling to align resource to manage peak activity in mail volumes
Spending too much time manually classifying and capturing document data
Looking to remove dependency on physical office locations to adapt to new working models
Looking to speed up inbound processing and client responses
Looking to manage all inbound physical and digital channels in a single workflow
Lacking real-time data visibility
Looking for a long-term archive with full audit trail
How does Digital Mailroom work?
The image below shows a typical process for an incoming document to the mailroom, which can be on-site at your organisation or outsourced to a solution provider.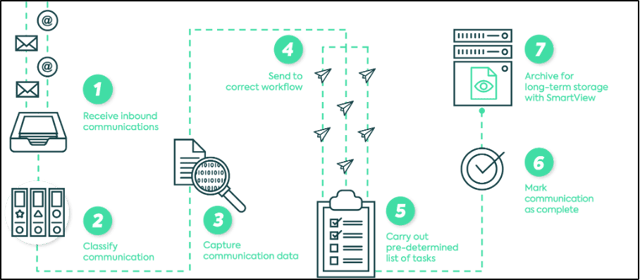 Step 1: Receive inbound communications
With your Digital Mailroom, you can still receive post at your current mailroom and run the processes from there. You can also place a redirect with Royal Mail to go to an outsourced facility run by your solutions provider (such as ours) to securely handle all printed communications.

Steps 2-3: Classify & Capture
Think of this step as document triage. After receiving inbound communications, optical character recognition software (OCR) scans the document or email for keywords to identify what type it is – e.g. an invoice, remittance, insurance claim or mortgage application – and classify it for distribution.

Anything that is anomalous can be flagged for manual checking, but typically Digital Mailroom technology will utilise AI to continuously improve the accuracy of document classification and data extraction, reducing the number of flags as time goes on.

Intelligent capture extracts data from form fields or letter content to add metadata such as the type of document received, the date received, details of the sender, their account information, purchase order number, invoice number, payment value and so forth.

Cherished documents such as birth certificates, passports and driving licences, require a more attentive approach. Which means a manual capture, by scanning and printing copies, validating these copies, and sending the originals securely back to the sender once they have been processed.
The Three Capture Models

There are three ways capture can be done. Self-serve, hybrid and outsourced models.

Self-serve means your organisation continues to receive mail to your physical mailroom, digitally capturing documents, on site with scanners. A vendor would simply implement a workflow capability and a portal with remote access, where you can control the distribution of documents. You would still require a mailroom team to process your documents and make sure they are distributed and archived properly.

Hybrid means you outsource the capture, redirecting all mail to a solution provider's facility, where they scan and give you access to the documents via a portal. But you still control the classification and distribution via the online portal.

Outsourced means the whole inbound operation is fully outsourced and automated, with communications processed depending on the rules you set.
Steps 4-6: Workflow, Tasks & Completion
This is where a digital mailroom can act as a light-touch case management system. Once classified, the documents are viewable in an online portal – ready to be assigned to the intended team, department or individual recipient, downloaded, re-allocated to another team or deleted. It's also where the document owner can send action requests back to the physical mailroom to destroy or rescan the documents.

With this workflow capability, digital mailroom solutions can integrate with outbound communication systems such as hybrid mail, email or SMS to respond to customers, continuing a two-way dialogue, and improving response times and customer experience.

By configuring your workflow's business rules in advance, you can automate a lot of the tasks involved in the mailroom.

For example, you could set a rule that all invoices are automatically assigned to a certain individual in Accounts Payable once they are scanned and classified, without the need for a mailroom operator to do this in the portal.

Once a document has been assigned to the right department or person, they have the ability to mark it as completed in the portal, and have it archived for future reference.

Read our full article on Digital Mailroom Automation: How to Best Employ for Optimal Efficiency.
Step 7: Archive
Digital mailroom vendors should offer an easily accessible document repository with full historical details on all inbound communications. For instance, at Adare SEC, we offer a self-serve tool called SmartView as our GDPR-compliant archive, with an extensive audit trail providing full transparency on all changes to document meta-data as well as a full audit history of who viewed what and when.

Step 8: Analyse
Cloud-based reporting and integrated analytics mean digital mailroom teams can assess their performance by looking at data points such as mail volumes, exceptions handling, orders processed, speed of response to the customer and more.

This way, identifying friction points in the customer journey is much easier, so you can resolve issues quickly and make valuable improvements to the customer experience.
Digital mailroom benefits
The benefits to a digital mailroom will be familiar to anyone undergoing a digital transformation project of any kind.
They can be grouped under these 5 key benefits.
Reduced costs
Improved speed, productivity and efficiency
Better security and compliance
Improved customer experience
Flexible implementation
Minimised environmental impact
Reduced costs
In our experience, implementing a digital mailroom has saved organisations 40% on their operational costs.

It removes unnecessary manual tasks, freeing up team resource and reducing the need for on-site scanning equipment like Multi Functional Devices (MFDs). In turn, you have less need of physical space, so you can repurpose office space for more profitable use.
To get a view of your potential savings, we've built a calculator, try it out below!
Digital Mailroom Calculator
Improved speed, productivity and efficiency
With an automated or semi-automated system, staff experience higher productivity because they can relinquish time-consuming manual tasks and focus on the more business-critical areas of their roles.

The operational efficiencies come from many features of the digital mailroom. Time and resource are saved when outsourcing the manual processing (prepping, sorting and scanning) to a GDPR-compliant third party, drastically reducing the most labour-intensive task. (The higher the volumes of inbound communications you receive, the more time and energy you will save.)

Highly advanced OCR software automates data recognition in inbound communications, meaning you can eliminate errors – while still flagging anomalies for human intervention.

Read full article: 5 Ways Digital Mailroom Speeds Up Customer Communications Processes.
Better security and compliance
Remote working has increased the risk to customer and business data. Physical documents go missing, email attachments are sent to the wrong address, documents are downloaded to unsecure locations vulnerable to hackers, or multiple copies are made and lost. All this activity is difficult to track which makes auditing extremely difficult.

Data security regulations can exact financial penalties for these kinds of security failures, and businesses are at risk of more than reputational damage. Under GDPR, data protection authorities are able to fine companies up to 4% of their annual revenue. That's in addition to the financial cost of disillusioned customers leaving for more secure providers.

If your company still has a mailroom that scans and emails inbound documents, you are open to more risks than you might realise. No audit trail, accidental errors and unsafe storage.

A digital mailroom provides a full audit trail for the history of every document that comes in. Rules set for confidentiality limit the distribution of sensitive documents, and all data is securely stored in one centralised location.

As long as you are using a GDPR compliant digital mailroom vendor, who are duty bound to protect your customer data from unauthorised access, loss, damage, or destruction – digital mailroom offers full oversight and control over inbound communications.

Read full article: How to Keep Customer Data Secure and GDPR Compliant with Digital Mailroom
Better customer experience
By getting mail to the right place more quickly and more accurately with automated recognition, your organisation can provide a much faster turnaround on applications and enquiries, and come back to customers sooner. With staff freed up to focus on business critical tasks, they are able to provide a much better customer experience.

Digital mailroom can be used in tandem with other customer experience management solutions such as digital forms, which means you can optimise your customer journeys to deliver a seamless onboarding, renewals or correspondence experience.
Flexible implementation
The beauty of digital mailroom solutions is that they are modular. Your organisation may only need help classifying and capturing inbound letters. Or if you already have an efficient scanning operation already, you might only need the workflow aspect.

When choosing a vendor, their solution should be able to slot in where there is a need, not simply just recommend a complete overhaul of your inbound system.
Minimised environmental impact
Improved efficiencies usually lead to a more sustainable operation. Because traditional mailrooms involve the transport of physical documents – sometimes to multiple locations across the country, and even couriered to remote workers – digitising as much of the process as possible will lessen your organisation's carbon footprint.

If your goals include more sustainable operations, optimising your inbound communications at all touch points is a good place to start.
All of these benefits will be useful for anyone trying to build a business case for implementing a Digital Mailroom. If this is you, we've made a free Business Case Template.
What kind of documents does a digital mailroom process?
The main function of a digital mailroom is to scan and process inbound paper documents and letters. But a good solution will be multi-channel, processing emails, email attachments and faxes too.

Emails are automatically ingested and their attachments, which can be a range of file types including text, images or PDF can be ingested or separated into multiple files. Faxes are automatically received into a digital environment avoiding the need to print.

There are all sorts of print and digital inbound communications that come into a mailroom day to day. But here are some of the most common:
General Correspondence
Claims
Applications
Forms
Digital Mailroom FAQs
Here are some important questions to ask when choosing a vendor.
Q: Outsourcing the handling of sensitive documents has its security risks. How do I make sure customer data is protected?
A: All good vendors should be GDPR compliant and transparent about their data storage. Be aware of those who use a third party for their document capture and processing.
Q: How quickly can we implement a solution?
A: We have heard vendors say 5 days or less from consultation to go-live. The real answer is that it depends on the level of integration and automation required. For our clients, once we gather and agree their requirements, we identify the best solution – the workflow can be as simple or complex as needed. Based on this, implementation typically takes 2-3 weeks til go-live.

Read our full article: How to Implement a Digital Mailroom.
Q: What is the lag time between a vendor receiving a document and it becoming accessible to the recipient?
A: Any vendor will strive to meet the SLAs agreed at the preliminary stages, before implementation. At Adare SEC, we receive post by 6am, and depending on volume and the complexity of the requirements, documents can be digitally available on the portal however soon your SLAs dictate, normally a few hours that same day. We also work with our clients to code priorities into the workflow's business rules, to prepare for sudden increases in volume.
Q: What can we do with our existing stored documents?
A: A Digital Mailroom provider will be able to help with your legacy printed documents by digitising them with a backscanning service, whether you have a few boxes or thousands. They will be included in your digital archive for quicker actioning and better GDPR compliance.
Q: How are cherished documents, like passports and birth certificates, handled?
A: These have an added layer of detail added to the process, with a manual capture and secure courier back to the sender once scanned into the Digital Mailroom.
Read more about our Digital Mailroom services here.