How to Implement a Digital Mailroom Solution
This article is for anyone who wants to understand the essential actions you need to take when setting up a new digital mailroom.

You may have already decided to digitally transform your current mailroom, but first want to know what the process entails. Or you might need to make a business case to your organisation before selecting a solution. In which case, this guide will help you convince your stakeholders that it is simpler than they think, and can bring you more benefits than at face value.

We will cover the eight simple steps to implementation, detailing what your organisation needs to do and what your vendor should take care of.

If this guide is coming too early for you, first have a read of our Digital Mailroom Explainer: How it Works, Benefits & Solutions to get the basics and then come back here.
Step 1: Gather your requirements
Every digital mailroom solution is different, depending on what you already have in place. Your solution provider will need to understand your requirements, so they can ensure the right functionality is available for your needs.
Your vendor will ask for a discovery phase where they learn all about you and should offer to run Q&A sessions, so there is complete understanding on both sides, and any outstanding issues can be resolved before the development and implementation begins.
It's important to note that this can be a sensitive phase. Often, digitising a mailroom can be seen as a threat to jobs and met with resistance, which is why it's critical to have the right teams involved so everyone understands the outcomes.
Usually, this means:
Mailroom operators, as they can walk through the process which will help identify manual and inefficient tasks.
Team leaders and managers to support cost benefits.
IT to discuss existing tech or IT costs, which help with the benefits report.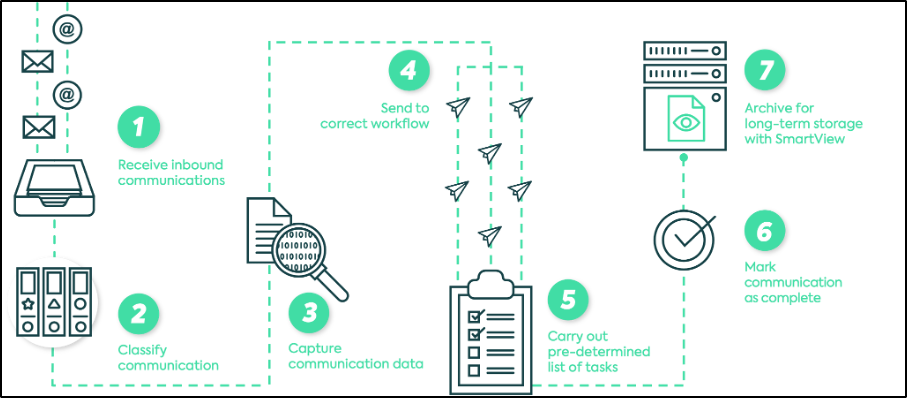 The image above shows a typical digital mailroom process that a vendor (such as ourselves) will provide you, but a good vendor will be flexible to your plans for digital transformation. Before they can design the solution, you will need to decide what level of automation you want at each stage of the process. Ask yourself:
At Stages 1-3:
Will you have someone scan each letter, or will you outsource this part of the process to your vendor and redirect all incoming post to their facility?
Can you automatically classify communication? Or should this be done manually?
If any, what data do you need to capture from each communication.
At Stages 4-5:
Do you want control the workflow or automate for speed and efficiency? (i.e. how should the digital mailroom distribute incoming communications across your organisation).
With your remote portal, do you want manual allocation from a work queue or automated routing to teams and departments, or specific users?
At Adare SEC, we typically class capture models in three ways. Self-serve, hybrid and outsourced models.
Self-Serve: You scan and process via a remote service.
Hybrid: You outsource the scanning and process internally via a remote portal service.
Outsourced: You remove any internal processes by outsourcing the whole operation
You will need to be prepared to share sample documents of all the different types of incoming communications you receive, such as application forms and invoices (including a mix of structured and unstructured forms). A good vendor will want to analyse them so they design the most effective solution for your business.
Step 2: Programme business rules
Depending on your answers to the above, you and your vendor will create a project plan together. Including whether you need a mail redirect and determining how to allocate resources to the scanning, data capture and classification of your inbound communications.
For stages 4 and 5 in the image above, your answers will help the vendor programme automated business rules that automatically assign digital and physical mail to the right departments, teams or individuals as they arrive. Plus any other predetermined tasks you wish to add to the process.
Read our article on digital mailroom workflow automation for a more in-depth guide.
On top of your workflow will sit a remotely accessible portal, so your staff can view the communications once they've been captured. If you've chosen to manually assign them, your document owners can do that through the portal. Your requirements will dictate the functionality of this portal.
Once all requirements have been reviewed and approved, you should receive a development estimate and delivery timelines. Then the build phase can begin.
Step 3: Building the solution
In the solution design and development stage, your vendor will allocate resources to the project and start building it in a non-production environment. This means no time is wasted when making alterations.
Step 4: Testing
They will then run both functional testing and user acceptance testing – the final stage of testing where users check to see if the solution works as expected from a processing perspective – on the solution to refine it, then test and refine again until it is ready to be used in production.
Step 5: Delivery
Only once the solution has been developed, tested and approved can it be implemented into a production environment.
Step 6: Final tests
You need to make sure the processes and the portal are linked up correctly on both your and your vendor's infrastructures. The only time you need IT involvement is where any system integration is required.
The vendor will run final end-to-end testing on each stage of the process before the system goes live.
Step 7: Redirect mail
If you are outsourcing the physical capture (scanning) stage, then you just need to make sure all postal providers such as Royal Mail redirect your inbound mail to your vendor's processing facility.
Step 8: Go Live & Monitor
Your digital mailroom is now live and processing incoming communications, just how you designed it in step 1.
But! Even after you press the green button on your digital mailroom, the journey continues – a key element to the solution is continuous development and growth.
For example, the AI involved in the data classification and capture stage will continuously improve and become more accurate over time, eliminating errors and improving efficiencies.
Your solutions provider will offer ongoing support, respond to service improvement requests, and update technology when it becomes available.
Let the operational efficiencies begin
As soon as you go live, you will start to see an impact in terms of speed, efficiency and resilience. Your staff will be able to concentrate on business-critical tasks and enjoy their enhanced productivity.
For more, see our article 5 Ways Digital Mailroom Speeds Up Customer Communications and Increases Productivity.
If you would like to learn about our digital mailroom services or hear more on how to implement a digital mailroom solution, get in touch with one of our team.