The 5 Hybrid Mail Mistakes Costing You Money
If you're reading this, then you probably already know a bit about Hybrid Mail – or as it can sometimes be known, print and post.
Hybrid Mail can be a revelation for customer communication managers looking to drive efficiency, save money and free up back-office resources. But you can only realise its full potential if you employ it wisely, and by working with a credible and experienced provider who can unlock its many benefits.
To help you navigate the pitfalls, we've put together a list of the most common errors made when getting started with Hybrid Mail, and how to avoid them.
Still need an explainer? Take a look at our comprehensive guide to hybrid mail to learn what it is used for, the type of features available, and the benefits it can deliver.
How does hybrid mail work?
In our experience, most errors come from a misunderstanding of what Hybrid Mail is, how it actually works and what is required from our clients as part of an implementation.
Simply put, it works like this.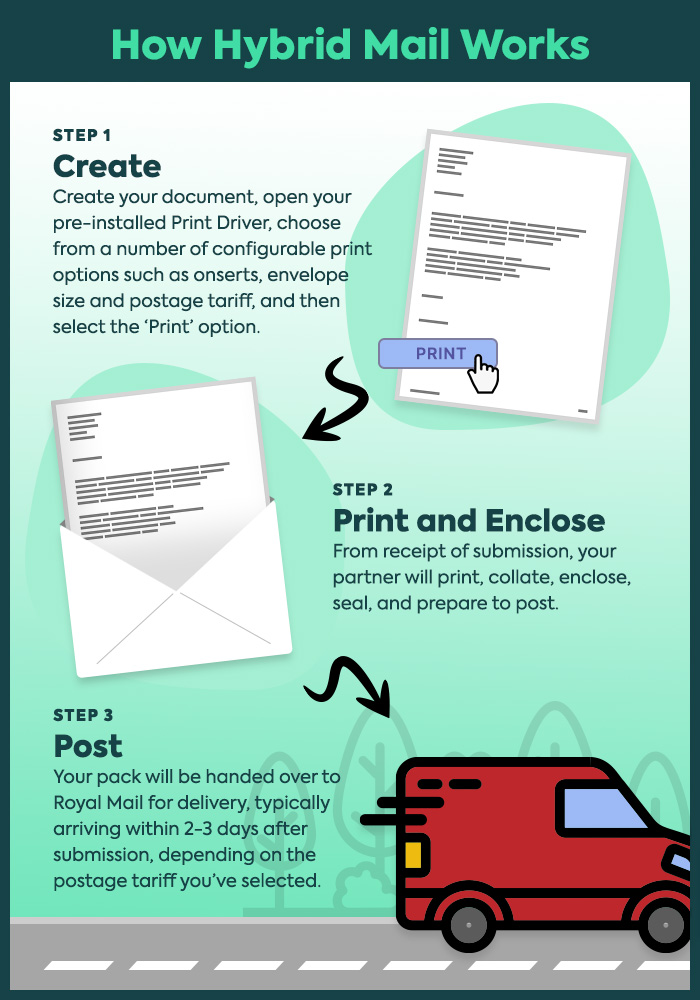 So, now you understand the process, let's get down to brass tacks.
Let's run through the five most common Hybrid Mail mistakes costing you money.
1. Address position
The Mistake: It may sound obvious, but a lot of costly errors come down to people doing things like putting the address in the wrong place within the envelope window. Often, that's because their Hybrid Mail software is not user friendly enough, or it hasn't been set up to mitigate these errors before printing.
How to fix it: First, make sure your service provider gives clear onboarding instructions for your team, with the correct window position for the address.
It's important that the address sits within the window to qualify for the Mailmark discount.
Second, make sure you choose a partner with a user-friendly platform. A good bit of software will be able to spot errors in formatting and won't let you hit print until they are corrected. For example, the address must be valid and displayed in the correct format for the document to process.
2. Printing inserts
The Mistake: There is a misconception that Hybrid Mail can only print letters. So businesses decide to print their own inserts and store them somewhere on-site or at a third-party facility.
Not only is this unnecessary, but also costly. It becomes someone's job to maintain a stock inventory, replenish, and enclose when needed. The inserts' content goes out of date, they sometimes get lost or even end up damaged.
Then, as time goes by, your business will likely want to update its brand guidelines or upgrade to an alternative material, or more sustainable paper. And soon enough, your inserts are looking very different to the rest of your correspondence, which never looks great for your brand.
How to fix it: Save space: Go all-in with your Hybrid Mail system to print everything you want to send simultaneously, and on-demand.
Save headaches: A good provider will offer a white-paper solution so you keep consistency in your brand.
Save money and the environment: Your provider should also offer the ability to include onserts and attachments to your pack, which means more flexibility in content and saving on paper.
3. IT engagement
The Mistake: By not including your IT team before you press the button on your Hybrid Mail project, you could run the risk of an excruciatingly slow and costly implementation. If the IT team are not involved, projects can be delayed at the last moment due to a lack of resource for set-up, installation of the Print Driver and completing the necessary testing.
Fortunately, the reality is there are many different things a Hybrid Mail provider can do to mitigate an overloaded IT team. A partner should always do most of the work when it comes to implementation anyway.
How to Fix It: Choose a partner that does the heavy lifting. The biggest obstacle to a smooth running system is IT assuming they will have to commit a lot of time. But by getting buy-in from your IT team at an early stage, you can avoid a lot of headaches and miscommunications.
It's also important that your partner manage expectations and clearly advise what IT resource they need access to as part of the implementation.
And if your IT team is still hesitant to install the Print Driver, a good partner should be able to provide workarounds, like logging into a console to send direct submissions, enabling hot folders and deploying less intrusive MSI installers.
4. Only using for customer comms
The Mistake: As highlighted above, Hybrid Mail is ideal for any ad-hoc, customer comms. However, there is an often missed opportunity to use Hybrid Mail to send out internal comms too. Think of all the welcome packs, training materials and other HR initiatives you could be saving money on.
How to fix it: Create your document, make your partner aware of any onserts that need setting up, and start using the platform for sending out those internal communications.
The price of the pack should be the same regardless of whether this is customer or internal comms.
5. Worrying about uncontrollable costs
The Mistake: Ok so this is a slightly different mistake, mainly the mistake of inertia.
The worry is understandable. When you have multiple users all using your Hybrid Mail system at once, how do you know they won't choose the wrong postal tariff and run up unexpected bills for your business?
How to Fix It: Never fear. During the onboarding and setup stage, your partner will input your business requirements, including tariffs, and make sure no one uses the wrong postage. You can even set approval processes to mitigate any potential risk.
And if you're worried about being limited to a small number of user-profiles for your staff, then you can rest easy. Most Hybrid Mail pricing should be chargeable per pack, not per user. So you can enable as many users as you like.
The benefits of Hybrid Mail
So there you have it: the top five mistakes people make when implementing Hybrid Mail – in our experience.
In our opinion, the potential trouble spots are easy to overcome with the right partner. As long as you know exactly what you want to get out of it, Hybrid Mail will deliver you:
Significant cost savings
Increased compliance
Improved brand control
Consistency of output quality
Enhanced efficiency and postage optimisation
Resource mitigation
If you want to know more, don't forget to check out our comprehensive guide to Hybrid Mail.