How to Convert Your Digital Transformation Efforts into CX Rewards
Digital transformation can mean many things to many people. To some it means offering email communications, to others it means switching project management to the cloud, or simply offering video calls to hybrid workers.
Where does digitising the customer experience (CX) fit in among these different initiatives? Often it's just one part of a much larger transformation project and might only come 3-5 years down the line. Businesses often have to rely on a major overhaul of systems before they can implement CX focused processes.
However, now with regulatory changes like Consumer Duty, the pressure is on to put CX at the top of the list, flipping the usual cadence of digital transformation projects. The need now is for agility, and the ability to solve pain points in the customer journey in a few weeks and not months. The upside to this is that switching to targeted and tactical digitisation saves money because it delivers benefits to CX much more quickly and in some cases can negate the need for larger overhauls. There is no need to wait for the project to get to the right line of business.
Taking small steps with digitisation can lead to big transformation, especially in customer communications, where the goal is to optimise customer journeys that lead to an excellent customer experience. Ideally, one that also leads to operational efficiencies and cost savings while being compliant and sustainable.
Digitising customer interactions – by employing digital channels such as email, SMS and online customer portals – is a powerful way to achieve this goal. Identifying, assessing and solving pain points tactically can avoid the expense and often unnecessary changes made when deploying blanket digitisation of customer journeys, which can introduce new frictions, hindering your customer experience strategy.
In this article, we will show you how best to approach digitally transforming your customer experience when optimising your customer communications management (CCM). Here are the five key things to know that will ensure your digital customer journeys will only ever boost your customer experience.
1. The benefits: why digitise your customer communications?
Before we get to the tactical considerations, it's important to know why you are starting a digital transformation programme. Switching some interactions from traditional paper-based communications to digital platforms can lead to improved efficiencies and a better customer experience, but there are other benefits too.
Increased efficiency: Digitising customer communications can streamline the communication process, making it faster and more efficient. This can save time and resources for both the business and the customer.
Improved customer experience: Digitisation can provide customers with more convenient and personalised communication options, such as chatbots, social media messaging, self-serve customer portals and mobile apps.
Enhanced data collection and analysis: Digitisation can provide businesses with more data on customer behaviour and preferences, allowing them to better understand their customers and tailor their communications and marketing efforts accordingly.
Cost savings: Digitisation can reduce the costs associated with traditional communication methods, such as printing and mailing, and can also reduce the need for manual labour, mitigating against human error.
Increased accessibility: Digitisation can make communication more accessible to customers with disabilities or those who speak different languages, as digital platforms can provide translation and accessibility features.
Freed up resources: By reducing the reliance on paper forms and physical mail, businesses can save time and resources, allowing them to focus more on improving service quality and customer engagement.
Compounded improvements: Digital solutions allow for easy tracking and reporting, and the ability to easily update and personalise communication materials, making it simpler for businesses to identify areas for improvement and refine their customer journey accordingly.
Two-way communication: Digitising communications enables businesses to facilitate quick, two-way communication with their customers effectively. Digital platforms empower customers to provide feedback, ask questions and communicate their preferences. Open dialogue allows businesses to swiftly respond to customer needs and build strong relationships based on trust and transparency.
With all these benefits, it's clear that digital channels are a powerful tool for effective customer communication, but when and how should you apply them?
2. The problems digital transformation can fix
There are three key pillars, or areas of improvement, that digital transformation should be applied to in order to improve your key business metrics. They are:
Inefficient or broken business processes with a costly back office that demands manual intervention.
Unnecessary paper communication that introduces inertia into the customer journey.
Friction in the customer journey caused by paper or business processes that have a negative impact on CX.
Introducing digital solutions such as a digital mailroom or hybrid mail can help an overstretched, inefficient back office automate processes, freeing up staff to focus on more productive work.
Of all the channels, paper is the highest cost and the slowest. Replacing paper with digital channels at certain stages (but not all) in a customer journey can increase the success rate of transactions and enquiries.
Friction is any obstacle in the journey that causes customers to either drop out of a process, call into the contact centre or even switch to another provider, impacting the bottom line. Mapping out journeys to pinpoint the centres of friction is key to knowing when to introduce digitisation.
3. Why multichannel means a better customer experience
Think bigger than just digital. Here's why you should offer your customers a choice in how they communicate with you.
Channel choice improves customer satisfaction, prevents customer churn and speeds up transactions, saving money in the long run. Financial services standards such as Consumer Duty recognise its importance of providing the option between post, email, SMS and online portals in driving better outcomes for consumers.
The mistake businesses often make is to only offer a digital means of communication, which ignores the effectiveness of physical mail and its higher response rates, and those customers who prefer it. And while contact centres are expensive, the option to call up is essential for many customers – especially if the digital journey is not clear.
However, what we've seen at Adare SEC is that, in reality, with a crystal clear digital journey, the majority of people will choose digital over the other channels. One of our digital journeys we co-constructed with a financial services client resulted in more than 90% digital responses, with 5% paper and 5% calls into the contact centre.
So, while you should offer more than just digital, customers tend to prefer to interact digitally.
Any CCM or CXM strategy should be flexible, adaptable and scalable to cater to customers' evolving demands and provide a consistent, unified experience across all channels. By focusing on the right combination of channels, businesses can enhance their customer communication processes, drive engagement and foster stronger relationships with their customers.
We will be discussing the themes from this article at our conference on 21 November 2023, Small Steps to Transformational Change. To get your free tickets, register via the link below.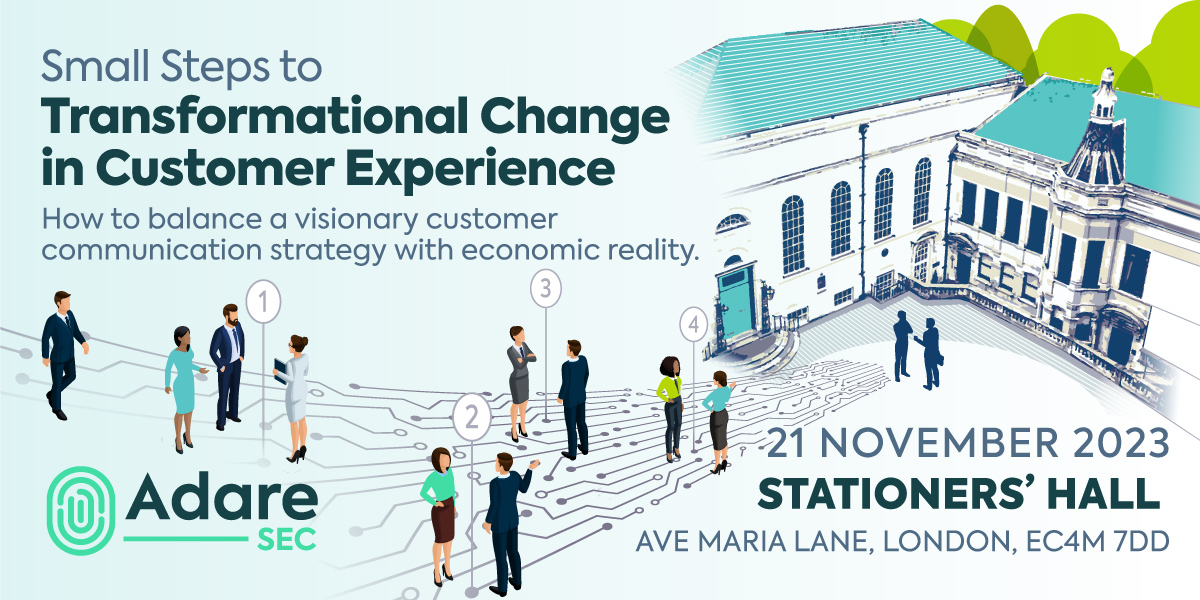 4. Go for the quick wins in customer journey optimisation first
Customer journey optimisation within your customer communications management is the key lever for better customer experience. This is the process of auditing existing journeys and identifying the touch points that could be improved using a digital, physical or multichannel service.
Running a customer journey optimisation programme by mapping out your journeys, can help you spot the moments of friction that are losing you customers. Once you've found them, there are a number of actions you can take and tools you can use to quickly and effectively without causing the disruption of a major transformation project.
Digitising paper forms
In any optimisation, removing friction is the objective. How can we help customers get what they need as quickly and easily as possible? Often the answer is to identify the touch points that cause the most friction in a customer journey and implement a digitised solution. For example, the paper form.
By converting paper forms to digital formats, businesses can empower customers with quicker and simpler interactions. Digital forms also enable the seamless capture and integration of customer data, leading to better analytical insights and easier communication between departments and stakeholders.
Digital Mailroom and Hybrid Mail
Implementing Digital Mailroom and/or Hybrid Mail solutions can greatly contribute to customer journey optimisation and help remove friction at various touchpoints. They enable businesses to reduce paper usage, streamline processing and increase efficiency. Inefficient back office
For inbound communications, Digital Mailroom solutions can automatically capture, categorise and distribute incoming physical mail.
For outbound mail, Hybrid Mail allows disparate back office employees to send physical mail from a digital source, merging the best of both worlds.
Postal optimisation
We know that channel choice means that paper isn't going anywhere, but you can still make it a more cost effective option.
Postal optimisation is an essential aspect of enhancing customer journeys that rely on paper. By ensuring timely and accurate physical mail delivery, businesses can reduce paper wastage and improve overall customer experience.
Optimising postal operations involves evaluating and selecting the most cost-effective postal carriers, proper mail classification and utilising volume discounts and postal software to increase efficiency and make positive impacts on the customer journey.
5. Don't ignore the UX/UI
For those touchpoints that you have decided to digitise, the transition from physical to digital should be seamless and intuitive, and never compromise on the quality of the content. This is essential for retaining customers and ensuring their satisfaction with the services provided.
Incorporating 'phygital' elements, blending physical and digital experiences, for example a paper welcome pack that links to an app, can greatly enhance user experience. But this means refining and adapting the layout and design of digital communications to better suit the needs of the user, and ensuring that the brand is consistent across both channels.
User experience plays a critical role in the decision-making process of customers, and the bar has already been set high for digital experiences. If a customer feels overwhelmed or confused by the digital communications they receive, they are more likely to turn to competitors who provide a better user experience.
By keeping UX in mind when digitising customer communications, businesses can increase customer loyalty, improve user satisfaction, and drive continued engagement with their brand.
Small steps to digital transformation
Organisations looking to digitise their customer communications can begin by focusing on small, tactical changes that will have a significant impact on improving customer experience and boosting overall efficiency. By gradually shifting from traditional communication methods to digital channels, businesses can adapt to their customers' preferences while providing a seamless interaction.
Multichannel communications
The most effective approach is to adopt a multichannel strategy that allows customers to choose their preferred communication channel. Implementing multichannel options can include integrating email, SMS, web chat and online customer portals into the company's communication processes.
Automating manual processes
Another small step towards digital transformation involves automating routine tasks, which can greatly improve the efficiency of customer communications. This can be accomplished by implementing centralised messaging templates and utilising customer data to personalise all interaction points. By automating repetitive tasks, businesses can save valuable time, reduce errors, and ensure consistent messaging across all channels.
Improved analytics
In addition to adopting a multichannel approach and automation, organisations should also consider investing in analytics tools to better understand customer behaviour. By tracking key metrics such as the most frequently used channels, the highest response rates and customer satisfaction ratings, it becomes easier to make informed decisions and refine communication strategies over time.
Digital transformation is a big phrase that can often mean a big expense. But it can also mean small, tactical changes that can be undertaken quickly and behind the scenes with minimal disruption to the day-to-day. Like embracing multichannel options, automating processes and utilising analytics tools. By taking these initial steps, organisations can gradually transform their processes and adapt to the evolving needs of their customers.