Customer Retention: Optimising Your Customer Journey Touchpoints
This article on customer touchpoint optimisation is part of our CX Optimisation Guide.
How hard are you making it for your customers to get what they need?
The number of obstacles and complexity that customers need to overcome in order to do business with you could be influencing their desire to stick by you when renewal day comes around.
At Adare SEC, our speciality is CXM (customer experience management). We look at how to improve customer experience by evaluating and optimising every interaction between a business and their customers during critical customer journeys such as onboarding, claims or renewal processes.
Every sector has a customer journey that is a moment of truth for their brand and how customers feel about it.
In this article we will explain how to approach customer touchpoint optimisation, how to identify friction points that could be causing customer attrition, and demonstrate how a multi-channel approach to customer interactions can lead to better business processes, increased operational efficiency and an enhanced customer experience.
Identifying pain points
First things first. We need to diagnose the issues causing customer attrition.
Where is the friction? What's causing bottlenecks in your processes? And most importantly, what's causing your customers to consider switching and going elsewhere for their service provider?
This is where customer journey mapping can be useful. By understanding the time and effort required at each touchpoint, you can identify how it can be improved and what impact it might have on customer experience.
For example, do you rely on paper forms as part of your customer processes? Those paper forms that take 2-3 days to print and post to customers, that then have to be hand completed (no one likes filling in forms!), only to have to return them again by post. The whole process often takes more than a week – high effort, high cost, poor customer experience.
This is a typical interaction that can be optimised with a digital process, reducing time required to complete a transaction from weeks to minutes. Busy customers will thank you for making their lives easier and your leadership team will appreciate the reduced costs and increased retention rates.
In the example below, you can see how many touchpoints are involved in a paper-based process. This not only demands customers' time and effort, but the manual processes that underpins this is also expensive and inefficient.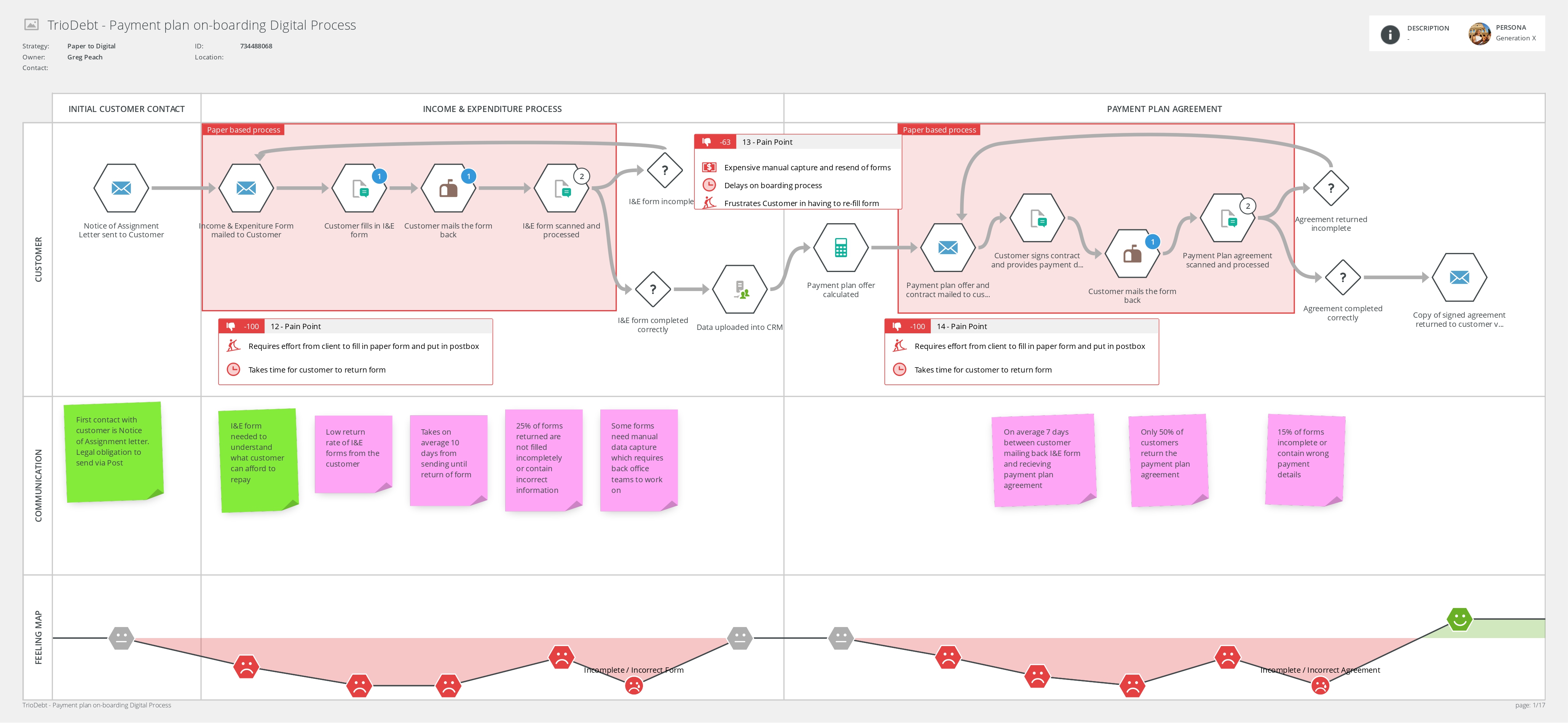 To learn more about how we might run a customer journey mapping workshop to identify the pain points in your communications processes, leave your details in our contact form below and we will get in touch.
Optimising the touchpoints
Let's take a look at how a paper-based process for a customer renewing a contract compares to a journey optimised for digital.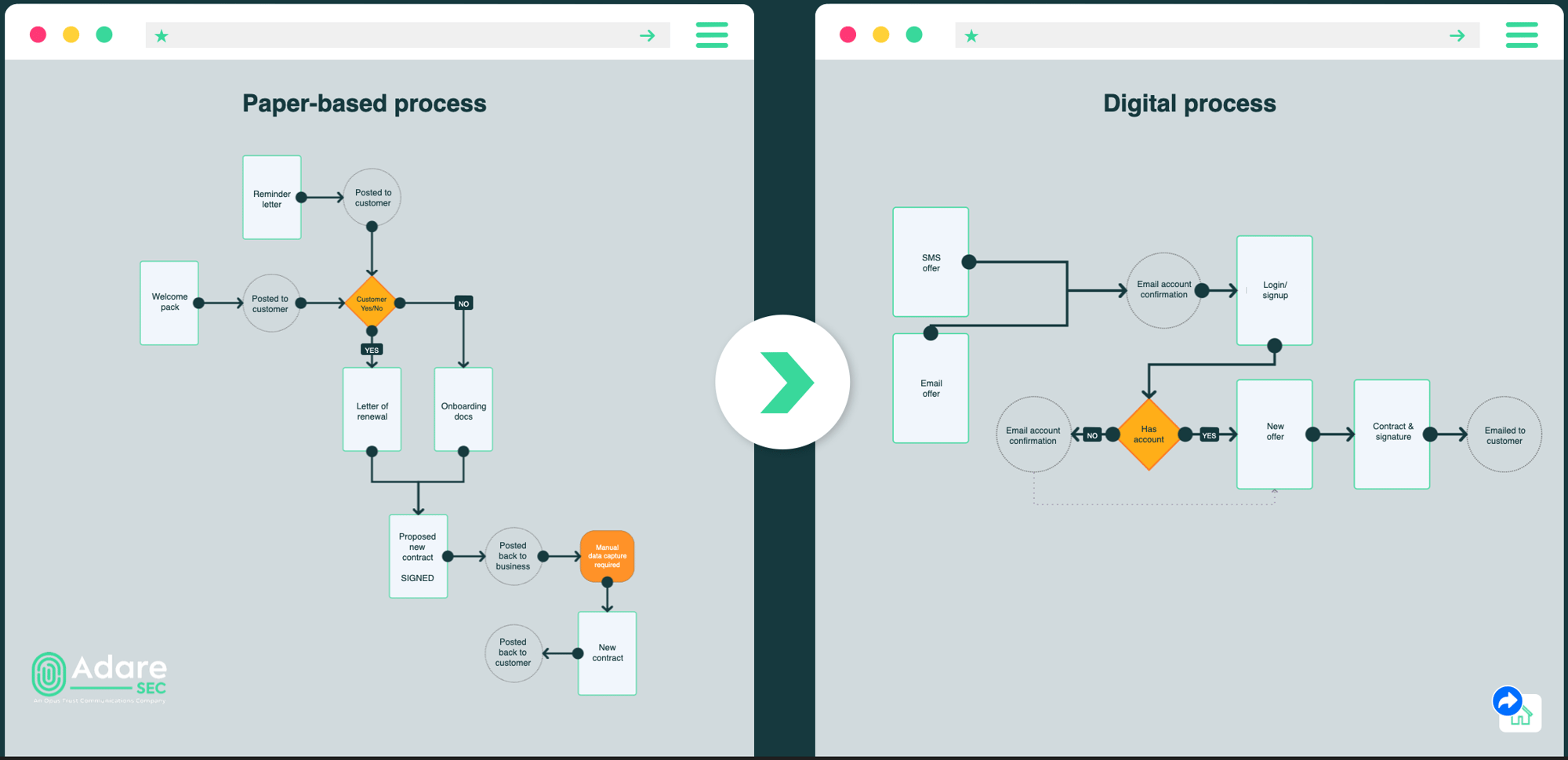 Click to enlarge
With printing, enclosing, posting and returning the signed contract, this renewal process can take up to 4 weeks to complete. It also increases the risk of accidental errors from both customer and back-office teams who need to complete several manual tasks, potentially causing delays and disruption.
By offering your customers the ability to view a personalised offer, activate it, access the T&Cs and sign via DocuSign – all in one single transaction – you are providing a high-quality customer experience and increasing the likelihood of retention.
With an inefficient, protracted process that puts the onus on customers to complete a series of manual steps, you are at risk of losing them.
Optimisation doesn't just help to increase retention. A digital process can be completed within minutes and can be mostly automated; meaning more time and money can be invested in the parts of your operation that need them.
For example, a typical pension transfer process involves the completion of at least four forms, the sending of no less than 3 letters and a total time to complete of no less than 2 weeks, if the customer is quick to act. A digital alternative could eliminate almost all of the letters (where digital contact details are captured, all letters could be removed from the process), all of the forms converted to digital and the time taken to complete to just a few days. Back office processing could be significantly streamlined to ensure customer experience is enhanced and the cost to serve reduced by an order of magnitude.
User experience matters
Switching your customer touchpoints from paper to digital isn't enough on its own. In fact, it's just the start.
The user experience needs to be good enough for your customers to want to use it. Keep in mind that 88% of consumers are less likely to return to a site after a bad experience, and 90% of consumers stop using an app if it performs poorly (Amazon Web Services, AppDynamics).
Customers are accustomed to a high bar for digital experiences. Your communications need to meet their expectations, or you may invest time and energy into optimising your customer communications that do not yield an improvement in customer retention.
Businesses need to think about the UX and UI that underpins every process.
For example: can your customers use a simple e-signature tool like DocuSign on your digital forms? Does your platform sync with CRM tools so customers don't have to repeatedly input their details? Has your digital experience been robustly user tested?
Two-way communication
Many companies' customer communications strategies focus on digital output only, making it difficult for customers to ask questions and get their issues solved quickly.
Without two-way communications ability, you could be reliant upon your customers returning paper forms or scanning and sending documents by email with no means to guarantee accuracy or to dictate timings.
Consider the example of the digital process outlined earlier, which can only be completed so quickly because the customer can read, activate and sign up in one single transaction. The ability to complete multiple steps in the same process means removing touchpoints and friction from the customer journey.
Quick, two-way communication is a simple way to make life easier for your back office teams and, more importantly, for your customers.
Why bring in a service provider?
An outside service provider offers a fresh perspective. Without bias, they give objective recommendations that cut through the competing priorities of different departments.
What's not necessary is an expensive and lengthy digital transformation project, run by a large consulting firm that will consume your budget.
The alternative: quick, tactical and operationally led improvements to specific moments in the journey that can be implemented at a department level. Short projects (less than 3 months) like this can reduce and optimise touchpoints without the need for intensive IT resource, as your service provider should do the bulk of the technical work. For example we've delivered genuine transformation in as little as 8 weeks for a major retail bank.
The value of multi-channel
Optimising touchpoints is not just about investing in digital. It's about executing digital communications efficiently and effectively. By keeping the customer experience in mind at all times, you will be able to meet their expectations, using the right channels at the right time.
Preferences play a large role. Some of your customers will prefer to use print, some only email, others just want to talk to someone. By segmenting your customers and allocating resources appropriately, you will be able to improve the operational efficiencies of your teams and enhance the customer service, whether in the contact centre or in the post room.
A multi-channel communications system incorporates print, SMS, email, digital interactions and calls. With a selection of output channels available, you can optimise each touchpoint depending on the customer preference required. And it needn't cost the earth.
In the end, it's about versatility and efficiency. A multi-channel, two-way approach to communications reduces the strain on back office resources, increases the speed of your interactions and improves the customer experience.
For more on transforming your customer retention, read our full CX Optimisation Guide.
Talk to us about your customer journeys